Solve.Care Collaborates with Chainlink to Deliver Real-World Data for Blockchain Healthcare Services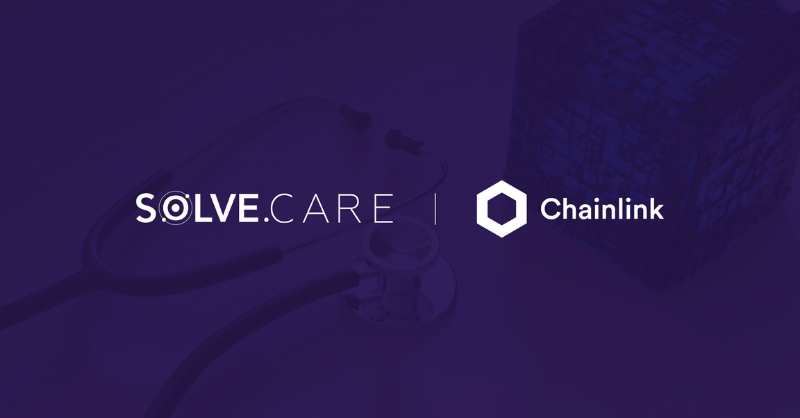 We are excited to announce that Solve.Care has formed a collaboration with Chainlink to integrate decentralized oracle networks on Solve.Care's platform to expand the role smart contracts play in the healthcare industry's future. Chainlink's market-leading decentralized oracle network will be used to securely source and deliver the off-chain medical data required for the execution of smart contract-based healthcare services, revolutionizing the industry.
Chainlink's oracles will play a critical role in Solve.Care's global platform by connecting key datasets and non-blockchain devices to Care Networks that run a multitude of healthcare services such as managing patients with diabetes, remote monitoring of patients with chronic ailments, healthcare workforce management well-being, and much more. Through this integration with Chainlink, Solve.Care will offer a greater value proposition for Care Networks by providing the healthcare industry the ability to directly measure the efficiency and efficacy of their services using smart contracts powered by tamper-resistant and highly secure datasets.
The importance of Blockchain and Oracle Technology to Healthcare Innovation
Healthcare industry estimates suggest that many inefficient legacy systems are wasting billions of dollars and endangering patient outcomes. Blockchain technology shows incredible promise to address many of these inefficiencies including improvements in health insurance reporting and financing, confidential research and patient data, and establishing notarized definitive truth for the medical device supply chain.
As a global healthcare platform, Solve.Care is leveraging the benefits of blockchain technology to seamlessly bring together Administrators, Clinicians, and Patients in a trust-minimized manner. Blockchain technology allows us to not only improve access to care, but also administer healthcare more efficiently, pay providers for results accurately and on-time, as well as improving the outcomes and reducing overall healthcare costs.
By adding an external oracle to provide verified external medical data required for the execution of tamper-resistant smart contracts, Solve.Care will be able to leverage the full potential of blockchain technology. An oracle is a secure piece of middleware that connects on-chain platforms like Solve.Care to all the world's off-chain data resources including API services, IoT and smart device data, financial and insurance data, and more.
Solve.Care chose to collaborate with Chainlink for oracle solutions as we found it to be the most secure, flexible, and proven decentralized oracle network on the market. Chainlink secures over $4B for various decentralized applications live in production, and we are confident that it is a perfect fit for our healthcare platform. Chainlink provides several features valuable to our integration, including:
Credential management capabilities that allow us to connect with any external API, which is an essential element in connecting healthcare data to smart contracts.
Secure and reliable oracle infrastructure that uses decentralization and data signing to ensure that healthcare data is highly available and delivered to Solve.Care in a manipulation resistant manner
Flexibility to provide transparency for auditing and privacy-preserving oracle solutions for data confidentiality, enabling us to be an open healthcare platform that still maintains regulatory compliance
Taking Legacy Healthcare Into The Future with Chainlink-Powered Smart Contracts
The use of oracles like Chainlink on a distributed ledger helps to solve the problem of interoperability so common today in current legacy IT systems. Industry estimates suggest that systems that do not integrate APIs are wasting billions of dollars and contributing inefficiencies that even danger patient outcomes through inefficient systems. Various U.S. government studies also confirm that legacy systems are wasteful and cannot achieve data interoperability. The failures of the current IT infrastructure are precisely why the use of an oracle like Chainlink and integration with a blockchain platform such as Solve Care help to address and solve the interoperability issue.
The benefits are potentially game-changing for the healthcare industry, bringing about true real-time verified data sourcing and retrieval, interoperability of systems, and the ability to add new system capabilities as needed. In terms of patient monitoring, Chainlink oracles provide access to data regarding what devices are being used and how often they are being used, all without revealing confidential information about the patient. This creates a balance of protecting the patient's privacy, while at the same time offering a high degree of transparency into the effectiveness of the Care Network as a whole.
Additionally, device usage data provided by Chainlink oracles can be used to create a peer to peer DeFi lending solution where anyone can invest in medical equipment with passive revenue potential directly on the Ethereum blockchain. This opens up new financing avenues for traditional medical device practitioners and the end result is a more efficient process for getting medical technology built and distributed to those that need it most. While these are some specific examples, we are looking into more use cases that can benefit from the powerful combination of Solve.Care and Chainlink.
"We're changing the face of healthcare with increased transparency, auditability, and compliance in healthcare delivery," said Solve.Care CEO Pradeep Goel, "This integration gives us tremendous options to use Chainlink's secure networks to ensure a more efficient healthcare process across the industry. From individual patient care to practitioners, insurance providers, and medical device industry needs, Chainlink oracles will allow us to address any external data requirements of our smart contract solutions for the healthcare industry. This will lead to greater adoption of blockchain in the healthcare sector."
Daniel Kochis, Head of Chainlink Business Development, stated, "We're excited to be able to collaborate with Solve.Care in expanding the scope of oracles in their healthcare platform. Chainlink's oracle network will ensure that Solve.Care smart contracts have secure and reliable access to accurate healthcare data, enabling clinicians, patients, financiers, and regulators to accomplish better healthcare outcomes with much greater efficiency."
About Chainlink
Chainlink is the most widely used and secure way to power universal smart contracts. With Chainlink, developers can connect any blockchain with high-quality data sources from other blockchains as well as real-world data. Managed by a global, decentralized community of hundreds of thousands of people, Chainlink is introducing a fairer model for contracts. Its network currently secures billions of dollars in value for smart contracts across the decentralized finance (DeFi), insurance and gaming ecosystems, among others.
Chainlink is trusted to deliver definitive truth by hundreds of organizations to provide continuous, reliable data feeds. To learn more, visit chain.link and follow @chainlink on Twitter.
Website | Twitter | Discord | Reddit | YouTube | Telegram | Events | GitHub | Price Feeds | DeFi
About Solve.Care
Solve.Care is a global healthcare company that redefines care coordination, improves access to care, reduces benefit administration costs, and helps reduce fraud and waste in healthcare around the world.
The Solve.Care platform creates ecosystems called Care Networks for patient-centric care based on medical conditions, economic and social needs, and other tailored eligibility criteria.
Solve.Care is also the first company in the world to successfully deploy digital currency and blockchain technology for value-based healthcare payments.
Solve.Care is one of the most recognized Blockchain companies in terms of brand recognition and awards: Most Innovative Blockchain Project Award at the Blockchain Life 2019 Forum, Top Innovative Blockchain Solution at the 2019 World Blockchain Awards, Top Outstanding Project at the 2019 World Blockchain Awards, BRI's Industry Solution of the Year 2020, SSON Impact Awards' Technology of the Year 2020, and many more.
Join in the discussion on our official Telegram channel. Follow us on Facebook, Twitter, LinkedIn, Medium, and Telegram, or visit Solve.Care for more information.